Dr. Sanjay Goja
Liver Transplant Surgery (Adult & Paediatric),Liver & HPB Surgery,Robotic Liver Surgery
Experience : 28 years
99 % Recommended
(86 Reviews)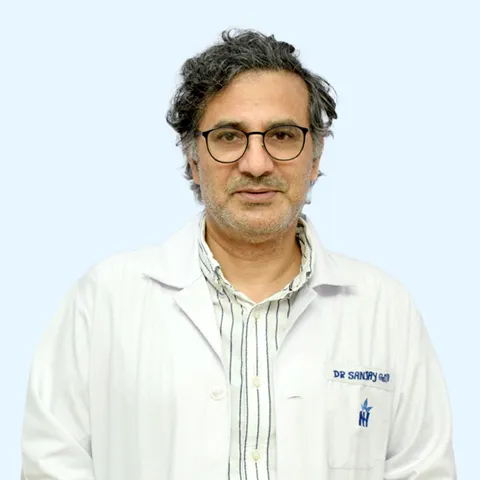 FRCS, FEBS (Multi Organ & Liver Transplantation), FACS
48 Patients enquired about the Doctor in last 1 Hour
Book Appointment
WhatsApp Expert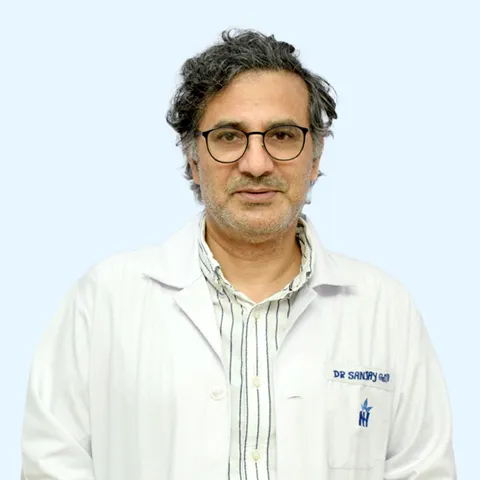 Book Appointment with Dr. Sanjay Goja
Dr Sanjay Goja is the Program Director and Clinical Lead - Liver Transplantation, Hepatobiliary Surgery and Robotic Liver Surgery at Narayana Health. He carries a rich experience of more than 28 years in Gastrointestinal and Hepato- pancreatico-biliary Surgery (HPB). He has more than 15 years of experience in Liver Transplantation. He has performed over 2500 liver transplants including both living and deceased donor liver transplants. His areas of special expertise have been living donor liver surgeries, paediatric transplants and minimally invasive liver surgeries. Besides he has a keen interest and expertise in complex surgeries for the liver, biliary system and pancreas requiring vascular resection and reconstructions, and doing such procedures using a robotic platform. A big part of his operating time is dedicated to surgeries for cancers of the liver, gall bladder, biliary tract (cholangiocarcinoma) and pancreas.
He is credited with performing 1st robotic hepatectomy in India in 2015.
Dr Goja and his team currently perform 10-15 live donor liver transplants every month with 95% success - results which are at par with the world's best centres. The success is paediatric transplants is 98%. Apart from treating patients from all over India, he treats patients from the rest of South Asia, The Middle East and Africa.
As the lead liver transplantation surgeon, he oversees the dedicated liver transplantation treatment units at:
Narayana Superspeciality Hospital, Gurgaon

Mazumdar Shaw Medical Centre, Narayana Health, Bangalore

Narayana Superspeciality Hospital, Jaipur

SRCC Children Hospital, Mumbai (Specialised paediatric liver treatment facility)

Rabindranath Tagore Institute of Cardiac Sciences, Narayana Health, Kolkata

Dharamshila Narayana Superspeciality Hospital, Delhi
These hospitals are equipped with the most advanced medical infrastructure for carrying out both liver transplantation surgeries & complex liver and other HPB surgeries.
Formerly, Dr Goja has been associated with Indraprastha Apollo Hospital, New Delhi (2008-2010) Medanta-The Medicity, Gurgaon as Senior Consultant Surgeon – HPB Surgery & Liver Transplantation (2010-2018)
Academic Credentials of Dr Sanjay Goja
Doctor Goja is an alumnus of Pt. Jawahar Lal Nehru Medical College, Raipur (MBBS) and Pt B D Sharma Postgraduate Institute of Medical Sciences, Rohtak (MS). He completed his Senior Residency in General Surgery from Rajendra Prasad Medical College, Himachal Pradesh which was followed by a DNB in Surgical Gastroenterology and Clinical Fellowship in Liver Transplantation at Sir Ganga Ram Hospital, New Delhi.
He has a Fellowship from the European Board (UEMS) of Surgery in Multi-organ and Liver Transplantation (FEBS). He has obtained a Diploma of Fellowship from Glasgow (FRCS) & American College of Surgeons (FACS).
Dr Goja had Advanced Laparoscopic Liver Resection training from Ethicon Institute, Cincinnati, USA.
He has his Da Vinci (Robotic) Console Surgeon training from Intuitive Surgical, Asia Direct, Seoul South Korea.
He underwent Robotic HPB Surgery training from Yonsei Medical Centre, Seoul, South Korea
Clinical Research
Dr Sanjay Goja has pursued deep clinical research in the field of HPB diseases liver transplantation and is credited with 40+ articles including 12 articles as the first and corresponding author in renowned high indexed international medical journals like Liver Transplantation, Transplant International, Clinical Transplantation and Ann Hepatobiliary Pancreat Surg.
He has also presented his research at prominent International Conferences including IHPBA 2008, ILTS Sydney 2013, CRSA Congress Chicago 2015, Inaugural ACRS Hongkong 2015, ACRS 2016 HICO, Korea and International Joint Congress ILTS, ELITA and LICAGE San Francisco 2011.
He presently sits on the Editorial Board of 'The International Journal of Medical Robotics and Computer-Assisted Surgery' – the official journal of an international organisation, CRSA (Clinical Robotic Surgery Association).
Area of Expertise
Dr Goja actively performs complex surgeries including:
Living Donor Liver Transplant

Cadaveric Liver Transplant

Combined Liver and Kidney Transplant

Paediatric Liver Transplant

Domino Liver Transplant

Swap Liver Transplant

ABO Incompatible Liver Transplant

Orthotopic Liver Transplant

Auxiliary Liver Transplant

Robotic Liver Hepatectomy

Minimally Invasive HPB Surgery (Robotic, Laparoscopic method)

Split Liver Transplant
His expertise lies in the treatment of diseases like Chronic Liver Disease, Liver cancer, Wilson's Disease, Liver Cysts, Acute Liver Failure, Liver Cirrhosis, Hepatocellular Carcinoma, Biliary Atresia, Liver Haemangioma, Budd Chiari Syndrome, Crigler Najjar Syndrome, bile duct cancer, gall bladder cancer and more such complicated diseases of the hepatobiliary system.
His passion reflects his deep interest in the areas of minimally invasive donor surgeries, HPB surgeries, patient & donor surgery safety and a compassionate approach towards affordable liver transplantation.
Specializations
Dr. Sanjay Goja performs major interventions in the following specilities:
Liver Transplant Surgery (Adult & Paediatric),Liver & HPB Surgery,Robotic Liver Surgery
Education & Achievements
FRCS - Royal College, Glasgow, Scotland
FEBS (Multi Organ & Liver Transplantation) - European Board (UEMS) of Surgery
FACS - American College of Surgeons
Memberships
Association of Surgeons of India (ASI)
American College of Surgeons (ACS)
Indian Association Of Gastrointestinal Endo Surgeons (IAGES)
International Liver Transplant Society (ILTS)
European Society of Organ Transplantation (ESOT)
Clinical Robotic Surgery Association (CRSA)
International Association of Surgeons, Gastroenterologists and Oncologists (IASGO)
Liver Transplant Society of India (LTSI)
Treatments
Dr. Sanjay Goja specialises in the following treatments:
Hospitals
Check the availability of Dr. Sanjay Goja for the appointment and consultation in the hospitals below.
Ratings

99%
Based on 86 ratings

Thanks thanks a lot............
Treatment : Hepaticojejunostomy
FAQs about Dr. Sanjay Goja
Book Appointment with Dr. Sanjay Goja
Top Treatments in Gurgaon