Dr. Prof Ravi Sauhta
Orthopaedics,Joint Replacement Surgery
Experience : 35 years
100 % Recommended
(72 Reviews)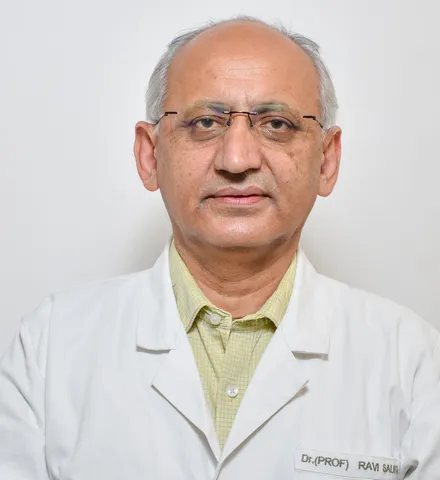 MBBS, MS Orthopaedics, MCh Orthopaedics, Fellowship in Pelvi Acetabular Surgery and Adult Joint Reconstruction, Fellowship in Arthoplasty and Spine
25 Patients enquired about the Doctor in last 1 Hour
Book Appointment
WhatsApp Expert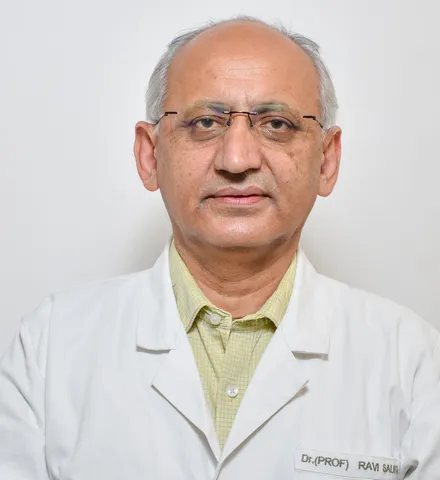 Book Appointment with Dr. Prof Ravi Sauhta
Dr Ravi Sauhta is an orthopaedician associated with Artemis Hospital, Gurugram. He has 35 years of experience in orthopaedics and worked as an expert in different cities in India. He has worked in many reputed hospitals like Umkal, Saraswati, MG Institute of Medical Sciences and Kasturba Hospital.
Doctor Ravi Sauhta has contributed to handling numerous complex medical cases in several hospitals. He is known for attention to accurate diagnosis and treating patients empathetically.
The speciality interests of Dr Ravi are pelvic-acetabular surgery, adult joint reconstruction and revisions joint Surgery for failed joints and Polytrauma Patient management and limb salvage surgeries for large bone tumours. He has performed more than 30,000 successful orthopaedic surgeries.
Dr Ravi Sauhta did his MS in Orthopaedics from KMU Institute of Medical Sciences in 1991 and MCh in Orthopaedics from Sychil University, USA in 2012. He also completed a Fellowship in Arthroplasty and Spine from Korea. He has also participated in research work, and various workshops under the orthopaedic department, and published many papers.
He is an active member of the Indian Ankle and Foot Society (IAFS), Indian Orthopaedic Association (IOA), World Orthopaedic Concern (WOC), Delhi Orthopaedic Association (DOA) etc.
Check the contact details and consultation fee of Dr Ravi for priority appointments and a hassle-free experience at HexaHealth.
Specializations
Dr. Prof Ravi Sauhta performs major interventions in the following specilities:
Orthopaedics,Joint Replacement Surgery
Registration Details
Maharashtra Medical Council- Registration No. (61260)
Education & Achievements
MBBS - Nagpur University (1988)
MS Orthopaedics - KMU Institute of Medical Sciences (1991)
MCh Orthopaedics - Sychil University, USA (2012)
Fellowship in Pelvi Acetabular Surgery and Adult Joint Reconstruction - Regions Hospital
Fellowship in Arthoplasty and Spine - Korea
Memberships
Trauma Society of India
Indian Ankle and Foot Society
Indian Orthopaedic Association
World Orthopaedic Concern
Delhi Orthopaedic Association
Bombay Orthopaedic Society
Treatments
Dr. Prof Ravi Sauhta specialises in the following treatments:
Hospitals
Check the availability of Dr. Prof Ravi Sauhta for the appointment and consultation in the hospitals below.
Sector 51 , Bindapur, Gurgaon - 122001, Haryana
Accreditations


Mon - Sat
10:00 AM - 08:00 PM

4.9 / 5 Rating
56 Reviews
Book Appointment
Book Appointment
FAQs about Dr. Prof Ravi Sauhta
Book Appointment with Dr. Prof Ravi Sauhta
Top Treatments in Gurgaon