Dr. Niranjan Naik
Oncology, Surgical Oncology
Experience : 25 years
96 % Recommended
(82 Reviews)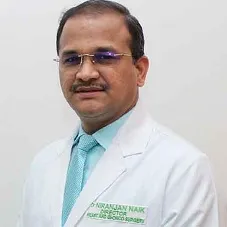 MBBS, MS General Surgery, Senior Residency Training Program in Surgical Oncology
34 Patients enquired about the Doctor in last 1 Hour
Book Appointment
WhatsApp Expert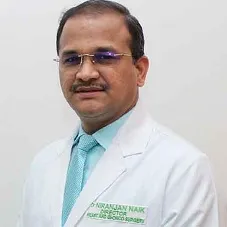 Book Appointment with Dr. Niranjan Naik
A specialist in Surgical Oncology with a rich experience of over 25 years is currently working in Fortis Memorial Research Institute, Gurugram. He has performed more than 12000 onco-surgical operations since 1996. He has successfully done various complex onco-surgical operations including laparoscopic and thoracoscopic procedures. He has also participated in various workshops, delivered numerous presentations and published many papers. He has handled numerous complex medical cases and is known for attention to detail, accurate diagnosis and treating patients with empathy.
Connect to Dr Niranjan Naik for priority appointments and a hassle-free experience via the medical experts of HexaHealth.
Specializations
Dr. Niranjan Naik performs major interventions in the following specilities:
Oncology, Surgical Oncology
Registration Details
Delhi Medical Council- Registration No. (10521)
Education & Achievements
MBBS - Bangalore Medical College and Research Institute, Bangalore (1997)
MS General Surgery - All India Institute of Medical Sciences, New Delhi (2002)
Senior Residency Training Program in Surgical Oncology - Institute Rotary Cancer Hospital (2004)
Memberships
Delhi Medical Association (DMA)
Indian Medical Association (IMA)
Treatments
Dr. Niranjan Naik specialises in the following treatments:
Hospitals
Check the availability of Dr. Niranjan Naik for the appointment and consultation in the hospitals below.
Fortis Memorial Research Institute, Gurugram
Opposite HUDA City Centre , Sector 44, Gurgaon - 122002, Haryana
Accreditations


Mon - Sat
10:00 AM - 02:00 PM

4.6 / 5 Rating
96 Reviews
Book Appointment
Book Appointment
FAQs about Dr. Niranjan Naik
Book Appointment with Dr. Niranjan Naik
Top Treatments in Gurgaon